At a time when statement scarves are upstaging the coat – on runways and on the streets – what better way to mark our 80th birthday than with a special Limited Edition version? And so to the source – Lake Como in Italy happens to be one of the most magical destinations, not least for its views, but also for its rich, artisanal history, and it's here that our collections of iconic silk scarves come together. To celebrate, we take an insider's look at the story behind the designs, from mining the house archives for inspiration to finding the perfect shade of raspberry red
FINDING THE PERFECT COLOUR
They say the eye has to travel and, similarly, colour is another magical component in the design process. Our designers meticulously study fabric swatches and unexpected palettes to arrive at thoughtful pairings for the Signet Silk Scarf.
THE PRINTING PROCESS
The craftsmen pour the rich colour of our Signet Anniversary Silk Scarf onto the screen to begin the printing process.

To ensure the design is printed perfectly onto the silk, each colourway must be poured and printed separately.
THE FINER DETAILS
Good things come to those who wait, and our Signet Anniversary Silk Scarf is no exception. After each colourway has been printed onto the silk, the fabric is steamed to fix colours in place.

The finished fabric, with our 80th logo, is then delicately washed to restore the soft, silky texture you know and love in each of our scarves.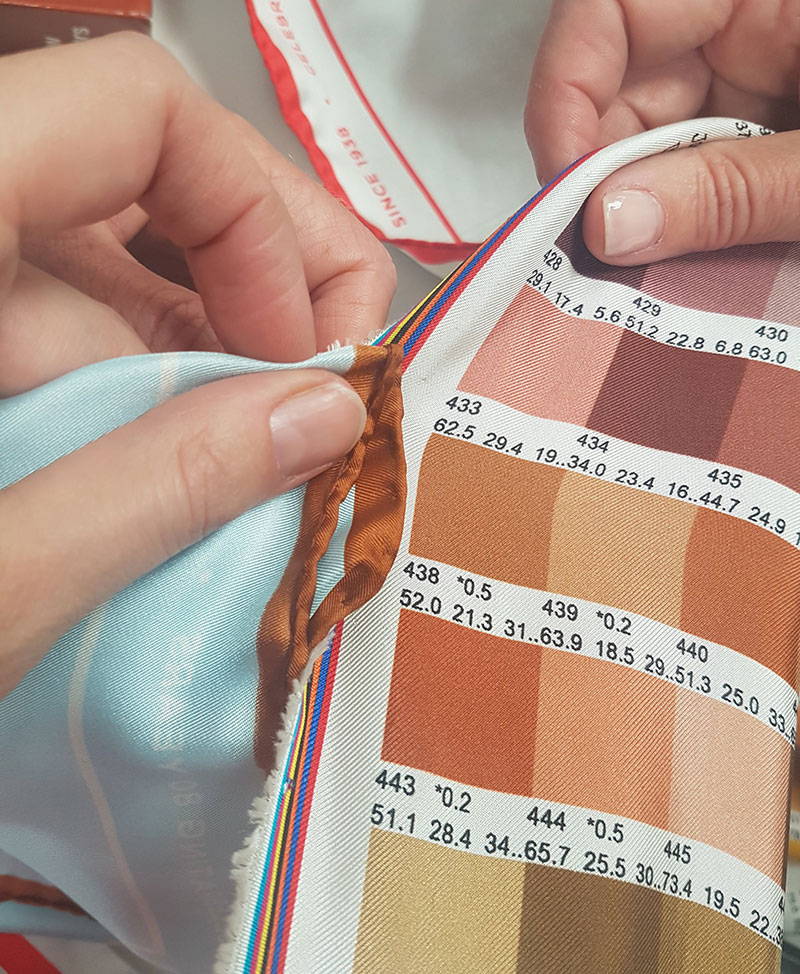 QUALITY CONTROL
Once the printed scarves are steamed and washed, it's time to get up close and personal. Every Signet Anniversary Silk Scarf is examined by hand to ensure there are no imperfections.